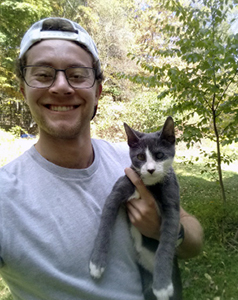 Why I chose veterinary medicine:
To be able to provide small farms a comprehensive source of care and continue the shift of large animal medicine toward humane practices.
My career plans:
Hoping for a mobile, mixed animal practice serving a rural community. Plan is to provide a one-stop shop to see the barn cats, the livestock guardian dog, the horses, pigs, sheep, alpacas, cows etc.
Fun fact:
Working at the large animal hospital has been a great experience, learning how to behave around animals who are stressed/in pain. Also being lifting completely off the ground by the neck of an alpaca who was just as surprised as I was.
Lane Beu, Class of 2024
Hometown: Bloomfield, CO
Undergraduate degree: Colorado State University