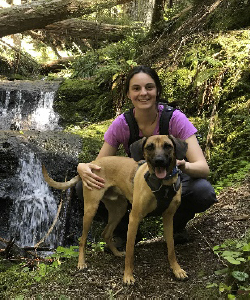 Why I chose veterinary medicine:
I grew up on a small hobby farm with a lot of animals. We had horses, goats, llamas, rabbits and many more. I have always loved animals; I find great joy in training and caring for them. I chose veterinary medicine because it will allow me to help improve the quality of life of animals and strengthen the human-animal bond through the promotion of species-specific husbandry, enrichment, training, behavior, and health care.
My career plans:
I am still not completely sure about my career plans. I love working with large animals: horses, camelids, sheep and goats. I am also very interested in veterinary behavior.
Words of appreciation:
Thank you so much for your support of my veterinary school journey. Camelids were an important part of my childhood and I hope to make them a part of my veterinary career.
Kelsey Woolsey, Class of 2022
Hometown: Grants Pass, OR
Undergraduate degree: Oregon State University
Fun fact: My favorite bird is an albatross.