For years, central Oregon alpaca and llama owners have trekked across the Cascades to support medical research fundraising events. On September 10, 2016, the Foundation took its fundraising event to them.
Ron and Gail Wilkinson agreed to host a fundraising event with a catered barbeque lunch of chicken and tri tip, baked beans, potato salad, garlic bread and Bend's best salsa at their R & G Acres ranch. Tents were set up on the back lawn to provide protection from the late summer sun. Guests could visit the herd of 30 plus selectively bred llamas, visit with old friends or start new friendships. Each table was centered with a potted chrysanthemum and information about the North West Camelid Foundation.
NWCF President Glen Pfefferkorn presented a summary of the thirty year history of the Foundation and its focus on medical research and education. Over $20,000 has been awarded in scholarships to students interested in alpaca and llama medicine and over $560,000 invested in medical research and support for the research herd at Oregon State University.
Featured speakers were Dean Susan Tornquist and Dr. Chris Cebra of the Oregon State University College of Veterinary Medicine. Dr. Cebra was accompanied by 14 senior veterinary students who were at OSU for the two week Camelid Medicine course. Dr. Cebra and the students dropped by after visiting an alpaca ranch earlier in the day. Among the students was one from Germany, one from Canada and a visiting student from Wisconsin.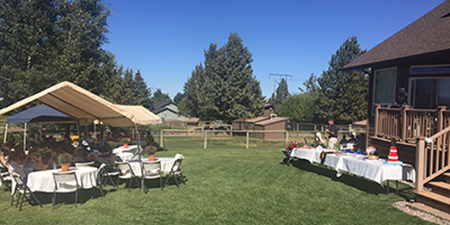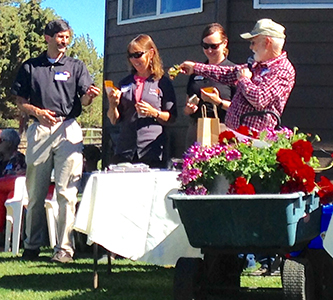 Col. Long, aka Dr Pat Long, veterinarian from Corvallis and Vice President of the Foundation, pressed the crowd to fetch top dollar for the donations from various authors and alpaca and llama owners. The Pacific Northwest Llama Fiber Cooperative sold products with 10% of the proceeds being donated to the fundraising efforts. Monetary contributions, fully tax deductible, were encouraged. Total collections exceeded $10,000.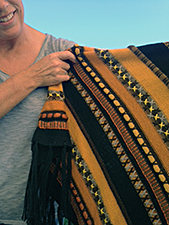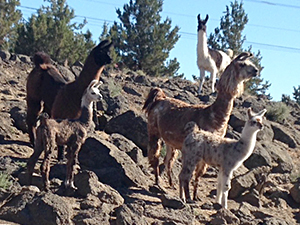 The event was coordinated by NWCF Directors Dr. Rachel Oxley of Juniper Country Veterinary Services and Mary Jo Walker from Port Hadlock, Washington. Marianne Moore, and other directors, Olin Allen, Ann Dockendorf and Bill Cameron helped with cashiering, clerking and miscellaneous tasks at the event.
Thank you to all who participated in the event and helped make our visit to Bend a success. We appreciate your continued support. Thanks, too, Crescent Moon Alpacas for loaning us tables and chairs.
Donations to protect the health and welfare of our beloved camelid friends are always welcome.
* * * All contributions are tax deductible * * *