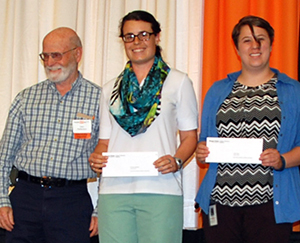 May 2015
Dear NorthWest Camelid Foundation Members,
I cannot thank you enough for the scholarship! I have always wanted to be a veterinarian, I cannot imagine myself doing anything else. With the support of wonderful people like you, the financial burden is lightened.
Also, thank you so much for your support of camelid research. I was lucky enough to work over the summer with Dr Steiger-Vengas on a research project aimed at better characterizing the cardiac abnormalities that camelids are prone to with CT. It was a wonderful experience that allowed me to expand my knowledge of imaging techniques and the anatomy of camelids.
Again, thank you so much for your support of the college and its students. Your support provides opportunities taht enrich our education and help us to achieve our dream at joining the wonderful profession of veterinary medicine.
Thank you,
Lucia Crane
May 2015
Dear NorthWest Camelid Foundation,
I cannot thank you enough for your generous gift! This scholarship truly means so much to me! I am finishing up my first year, but I have big plans for my future. I plan on going into large animal surgery. Throughout my undergraduate work at California Polytechnic State University I shadowed a large animal veterinarian who did a lot of camelid work , and I just fell in love with them! They truly inspired this small town horse girl to branch out and seek a career treating multiple large animal species.
I love that Oregon State has incorporated camelid into their curriculum . I originally started vet school at St. George's University in Grenada, West Indies. Because Oregon State was always my top pick and due to their excellent large animal hospital, I elected to transfer here, and I have never been more happy, I absolutely love OSU and the curriculum and this scholarship is really inspiring.
As summer is quickly approaching, that means evaluations are right around the corner. I try to volunteer at the large and small animal hospitals here at OSU as much as possible so I not only get the opportunity to learn from clinical cases and to apply my knowledge but it reminds me why I study so hard in order to chase my dream. This summer I have an internship at Pioneer Equine Hospital in California and I am vet-teching at a small animal hospital. I am also going to Australia to work at a koala hospital.
Thank you so much, from the bottom of my heart! You are making my dream come true!
Courtney Dewlaney